Trail Length: 1.6 Miles
Elevation Gain: 300 Feet
The attraction here is Black Wolf Meadows and abundant berries. The route through the meadow is marked by posts.  Once entering the meadow from the west keep right and follow the edge of the meadow until it narrows at it's lower end.  The tread resumes here with the waterway on the left.  Later you will cross this creek.  Supposedly, there is a spring around the base of the meadows but I have not seen it yet.  There is a bog hole in the northwest corner but I think there's a better source elsewhere.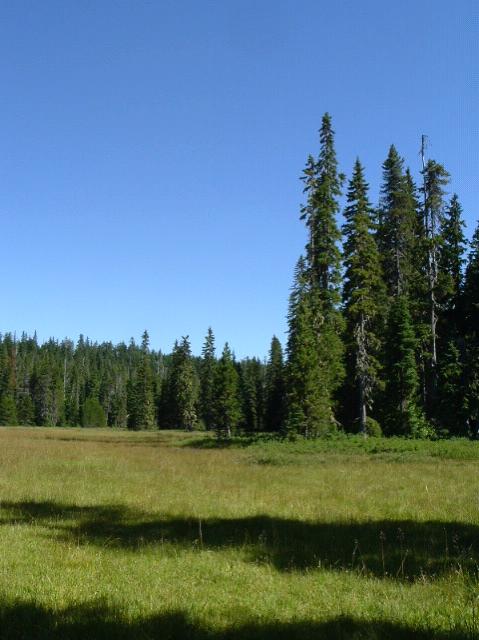 BLACK WOLF MEADOW EXPANDS ON ENTRY
Anvil Lake is on the right down a short side trail.  Watch for it after crossing the creek.  The lake is closer to the east trailhead.  An interesting habitat.  Not well suited for camping.  Boggy, brushy, etc..  Nearby Dinger Lake is more interesting.
Dinger Lake was named because some fisherman caught a fine catch of trout, calling them "hum-dingers"  Only the last part of the name was applied to the lake.1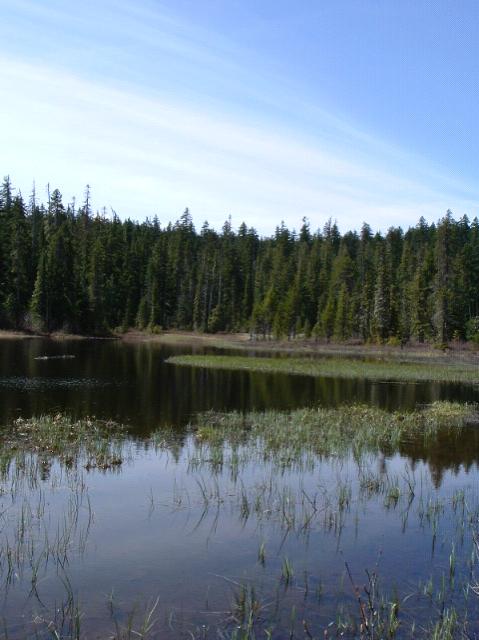 ANVIL LAKE IS A QUIET PLACE
This trail is a segment of what was a major cross Cascades foot and hoof route from Clackamas Lake and the former Skyline Trail to Estacada.  The Old Baldy Trail 502 and the Fanton Trail 505 also include parts of the same old route.
Several abandoned trails connect providing some interesting exploration activities.
Trail open to hikers and horses.
1 Oregon Geographic Names, McArthur, Lewis, 1928.