Round Lake Trail from Rho Ridge
10/06/2017 - 8:06 pm
Member Since: 09/20/2009
Forum Posts: 714

Offline
09/28/2017 - 4:01 pm
Member Since: 09/20/2009
Forum Posts: 217

Offline
Kirk, it very well  might have had something to do with the Hawk Mtn LO.  The panorama photo from Hawk Mtn https://www.trailadvocate.org/images/LookoutPanororamaPhotos/HawkMtn/HawkMtn002.jpg shows that the view to the NW toward Round Lake (in left half of photo) is obscured by tall trees.  Maybe an observer was posted at Round Lake to keep an eye on the forests in that area when necessary.  Just speculation on my part.  There had to be a good reason for them to invest time and money to install that phone line.  Here is a photo looking SE from Round Lake towards Gyp Point which shows what an observer might have seen
It's interesting to note that the symbols for the phone line only show on the 1938 map and the 1945 Fireman's map (which is based on the 1938 map).  It doesn't appear on later maps that I've seen.  Perhaps the line was installed to address an immediate but temporary need. 
09/25/2017 - 6:10 pm
Member Since: 10/13/2010
Forum Posts: 410

Offline
Nice find!  Maybe the guys manning Hawk Mountain got tired of canned food and went down there to fish sometimes?  That's my guess, but there's probably a better explanation than that.
While I was checking out maps of the area, I found this interesting surveyed rectangle at Hawk Mountain (Section 27). Here's some entries for the survey: "Kind of Entry or Purpose - PLO Wdl FS Adm S,  Serial Number or Order Number - 3634,  Action Date - 04/15/1965,  Remarks - OR 013665; Hawk Mtn".  I wish I knew what that all means.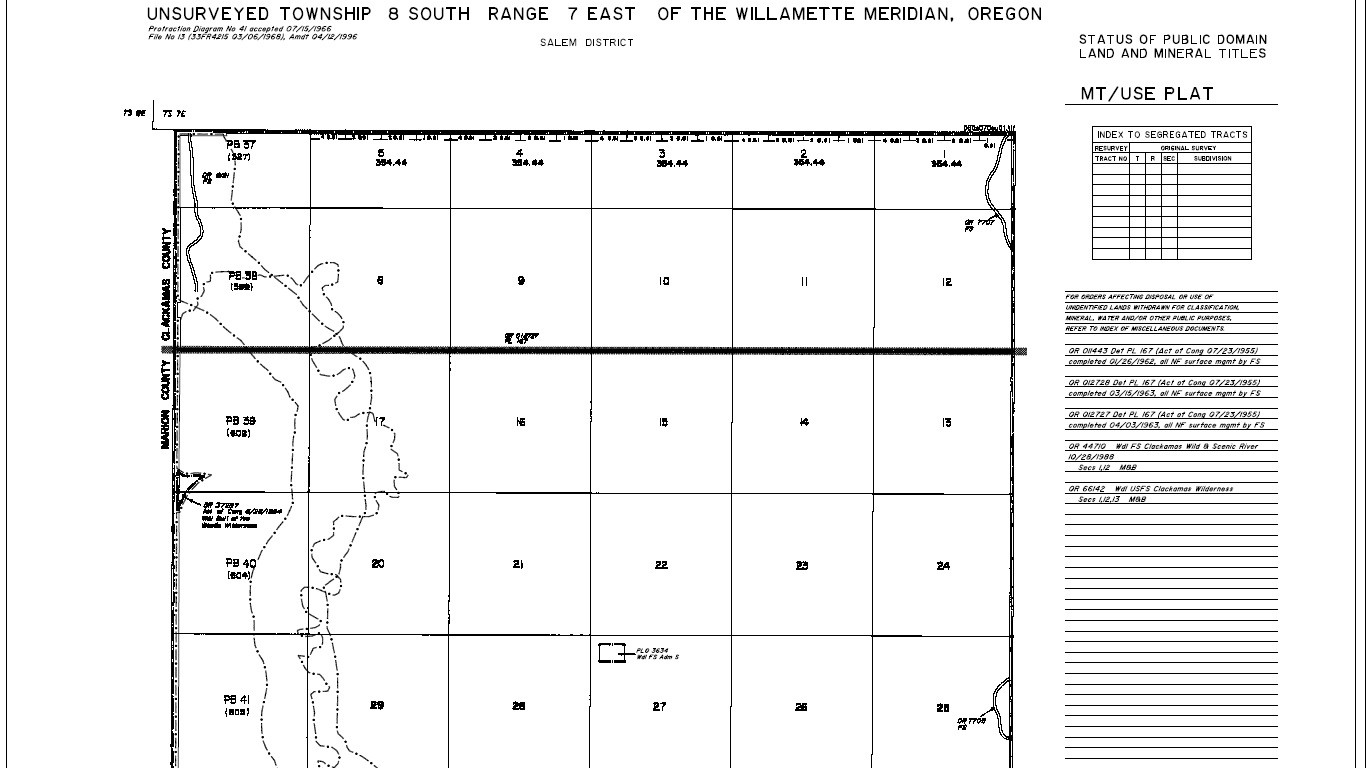 09/25/2017 - 3:42 pm
Member Since: 09/20/2009
Forum Posts: 217

Offline
Does anyone know why there would have been a phone line from Rho Ridge down to Round Lake?  It's shown on this 1938 map.  Did Round Lake have some official use prior to its use as a campground?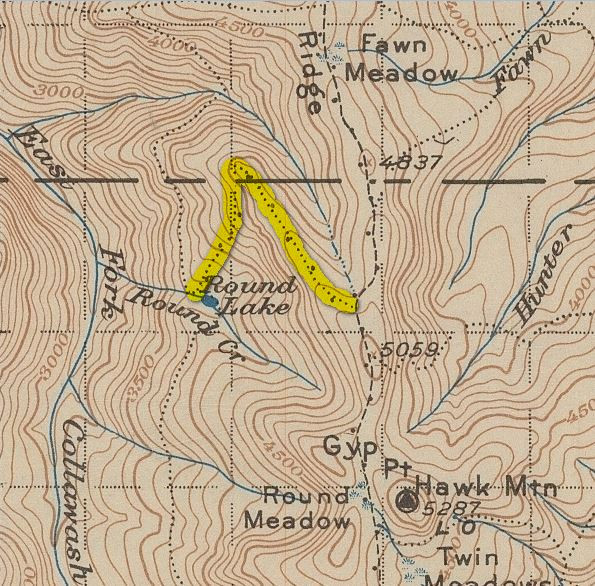 I went out in search of the upper end of this trail to see if there were any signs of a phone line using the 1961 USGS quad as my guide.  I found numerous blazes and some tread and, yes, some insulators.  So there was in fact a phone line along that trail.  Now I need to go to Round Lake to see if there are any signs of the trail down there.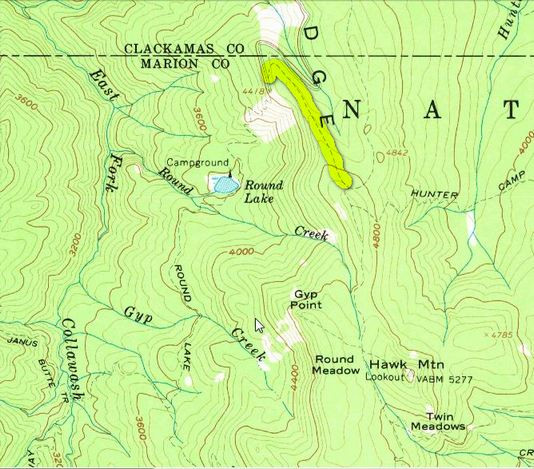 An insulator along the trail.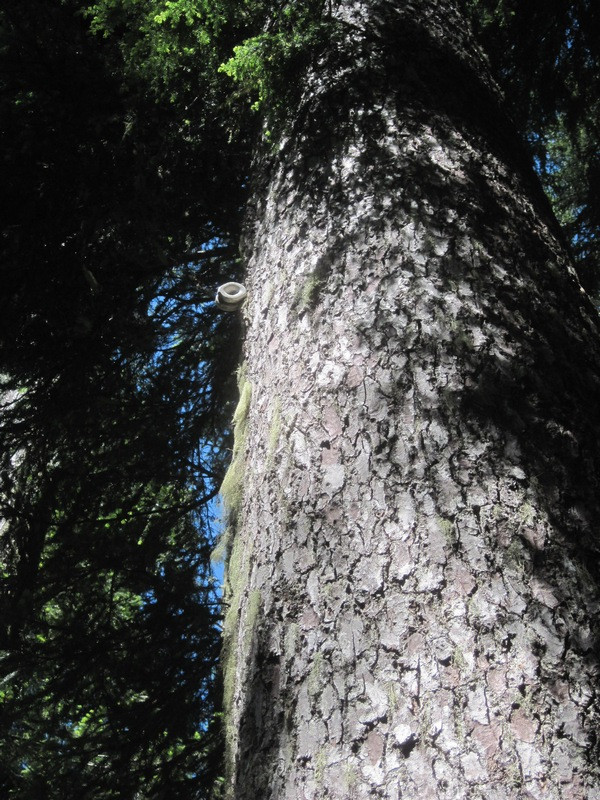 A decent piece of trail tread.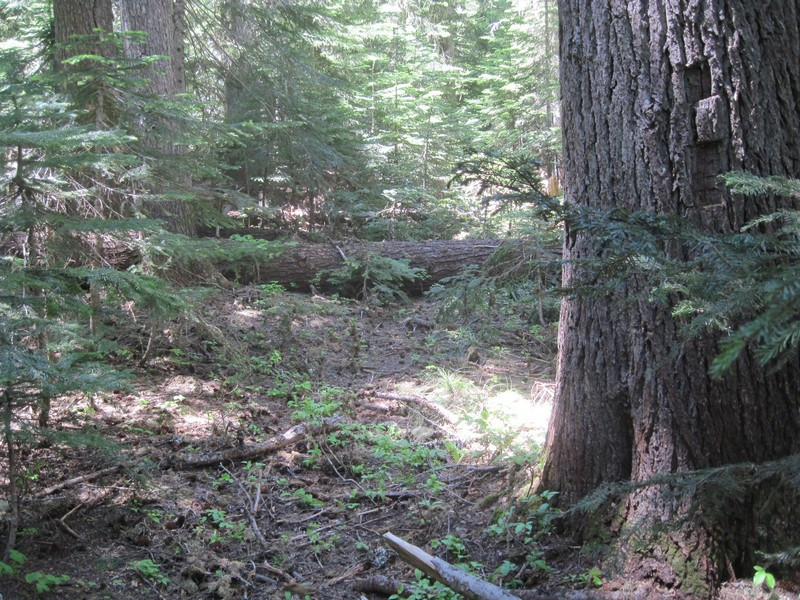 Forum Timezone:
America/Vancouver
Most Users Ever Online: 93
Currently Online:
4 Guest(s)
Currently Browsing this Page:
1 Guest(s)
Member Stats:
Guest Posters: 0
Members: 267
Moderators: 0
Admins: 3
Forum Stats:
Groups: 2
Forums: 7
Topics: 405
Posts: 4936
Administrators: Admin: 13, Donovan: 714, Rob Williams: 1328