Bull of the Woods Wilderness fire closure
08/27/2010 - 5:37 pm
Member Since: 09/20/2009
Forum Posts: 263

Offline
Looking at the maps as they update them, this fire continues to spread, although very slowly....The look of the BOTW is going to change.  Doesn't look like the trails will be opening anytime soon.  They are basically just monitoring the fire, letting it burn.  The area around Schreiner Peak is almost completely consumed now.  Looks like it is nearing Elk Lake Creek, too.  I'm glad I got to experience the trails before they change significantly!
Update on Bull of the Woods closures (from the USFS website):
 
Effective October 14, 2010
A Large Portion of the Bull of the Woods Wilderness and Adjacent Area of the Clackamas River Ranger District Remains Closed.
There has been extensive damage to some trails from burned out roots which had supported the trail bed and there are many hazardous snags. The following trails or sections of trails are closed: Elk Lake Creek Trail #559 is closed from Forest Road 6380 to the intersection with the Mother Lode Trail #558; Mother Lode Trail #558 is closed from its junction with Trail #559 north Big Slide Lake; Dickey Creek Trail #553 is closed from its beginning at Forest Road 6340-032 to Big Slide Lake.
Olallie Lake Scenic Area: All trails in the Olallie Lake Scenic Area, except for Mon-Olallie Trail #732 and Trail #729 on the north side of Monon Lake, are open.
Trails #729 and #732 remain closed due to hazards posed by burned-out snags.
New Closure Order and Map for the Bull of the Woods trails:
http://www.fs.fed.us/r6/mthood.....010-11.pdf
New Closure Map for Olallie Area:
http://www.fs.fed.us/r6/mthood.....uremap.pdf
Interesting notes from the closure orders:
For the Bull of the woods trails:
"These trails, roads and area shall be closed from October 14, 2010 until May 15, 2011. "
For the Olallie Trails:
"These trails shall remain closed until May 15, 2011"
Bryon Boyce
Clackamas River
10/17/2010 - 8:49 pm
Member Since: 01/24/2010
Forum Posts: 286
With the (possibly) last of the nice weather upon us, I took Wednesday off to do what is probably my last high elevation hike of the season.  I went up to Bull of the Woods lookout on the #550 trail.  I was very surprised at the lack of snow, especially since it must have gotten dumped on a few weeks ago.  The only snow I saw was on north facing slopes or shady areas, and even there, it was only a couple of inches deep.
The trail was in great shape, with only a couple of downed logs.  There are a few areas they get rather brushy, but since all the undergrowth had died, and all the huckleberry bushes had lost their leaves, it was still easy.  I spent some time brushing the worst of the trail, up top, but it still needs a lot more work.
One of my goals was to see how much damage had been caused by the fires this summer.  I was rather disappointed that I couldn't see much.  From what I could see, it looks like the damage is less than I was fearing.  Big Slide Lake looks untouched, but I'm not sure why the Dickey Creek Trail is closed.  I didn't see anything back that way that looked burned, but it must be beyond what I could see.  Here is a pano of Big Slide Mountain looking east from the lookout:

You have to look carefully, but you can see the burn damage in the saddle between the two peaks.  Here is a zoom in of the saddle area with the burn damage: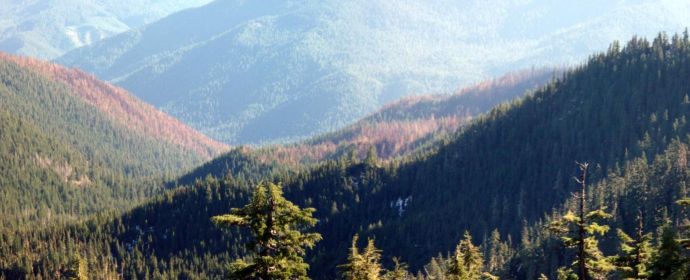 The good news is that the burn doesn't appear to have gone up the other side of the valley.  The bad news is that I think the damage on the other side of that hill is extensive.
It was a beautiful day, and the wind going up the Clackamas gorge was as strong as I've seen it - the reservoir had BIG whitecaps on it!  I didn't have a whole lot of wind on the trail, just a little once I got up to the top.  One thing: The lookout appears to have lost part of one of its shutters.  I think it was sitting down on the ground below it.  It looked like someone had weighted it down with rocks, I'm guessing to help keep it from blowing away.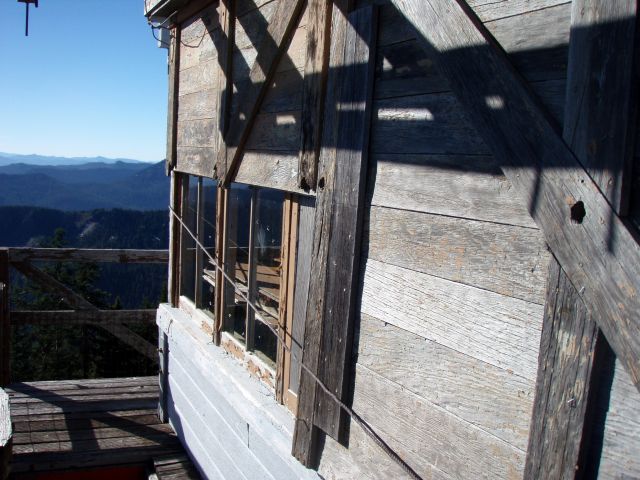 A great day, and a wonderful way to end the high country season.  After this weekend, I think it will be low elevation trails for a while....
11/07/2010 - 11:40 pm
Member Since: 09/20/2009
Forum Posts: 714

Offline
Thank you Rob. I enjoy the look around.
That poor tower never seems to get the attention promised. I hate to say it, but there may be a willful inertia of delay involved. Complicated by difficult zoning.
Maybe we need to get the Scouts on it. At least repair the shutters.
Might step on some toes, but who cares if the toes are inactive?
Kinda like when we painted Hawk Mtn the wrong color. It said Hawk Mtn on the can but it turned out not to be what some one figured would have been if it could have been. But hey, any paint is better than no paint.
Anything positive at the tower would be better than nothing.
D.
11/08/2010 - 6:30 pm
Member Since: 09/20/2009
Forum Posts: 263

Offline
I've posted a few photos of the fire damage on my Flickr page at http://www.flickr.com/photos/1.....283420/.  The views from the lookout tower are of course the same that Rob posted, but I also have some views from a vantage point on the south side of Elk Lake Creek that might be of interest.  It took some serious bushwhacking through the rhodies on the hillside south of the creek to find a place with a decent view, but I got a better perspective of the extent of the fire damage, so it was worth it. 
Thanks for posting the photos, Doug.  From all I've seen so far, it isn't as bad as I thought it was going to be, but then again, you can't really see the whole Welcome Lakes area.  It was a pretty extensive burn, but it could have been a LOT worse.
Someone on Portlandhikers actually hiked the Dickey Creek trail last weekend (didn't know it was closed-said there was no obvious postings), and it didn't have ANY fire damage on it at all. I'm just curious why that trail is still closed?

Forum Timezone:
America/Vancouver
Most Users Ever Online: 114
Currently Online:
6 Guest(s)
Currently Browsing this Page:
1 Guest(s)
Member Stats:
Guest Posters: 0
Members: 298
Moderators: 0
Admins: 3
Forum Stats:
Groups: 2
Forums: 8
Topics: 459
Posts: 5219
Administrators: Admin: 14, Donovan: 714, Rob Williams: 1444