Fanton Trail
I had today off so decided to hike the last bit of Fanton Trail I hadn't been on before (I lost it in the snow when I was trying to hike it last time).  Started at the upper end of it at the turnout above the clearcut, so it was a short hike.  I took it up to where it joins the ??? trail up to Squaw Mountain, took a look around the old lookout site for a while, ate lunch and then came back down.
The trails were in fantastic shape!  I think I only counted 3 or 4 down logs, and none of them were anything more than a stepover.  I moved one off the trail since it was easy to do.  I also brought my loppers and clippers thinking I could do some maintenance, but I didn't see anything to do!  I did throw some branches etc, off the trail, but that was about all I could do since the trails were in such good shape.
Fanton is a very interesting trail.  Part of it follows the road REALLY closely, goes through some old clearcuts, and part of it goes through some pretty untouched forest.  It was a BEAUTIFUL day, and I got some good views of Hood, including some interesting clouds.  Adams and St Helens were visible, but rather hazy.  Jefferson was almost lost in the clouds.  I could see all the smoke from the fires in BOTW.
A short, but fun day in the woods....
What is everyone else up to?  It has been very quiet here lately....
09/03/2010 - 11:34 pm
Member Since: 09/20/2009
Forum Posts: 842

Offline
So you didn't go onto Twin Springs.  That's the old Baldy Trail #502 that you meet coming up from the Fanton Trail. So I take it no one has cut it out yet, let alone has anyone gone out to Old Baldy or the Bissel Trail. I knew I purchased that 4 foot crosscut last week for some reason.
 I was looking for some trails to work on in a couple of weeks when I go on vacation. I might have to see what is going on up at the old trail house. With the fires going on in the southern part of the district, I am planning on working in the north where it is needed.
 I also plan on making at least one or two trips down into the Roaring River on one of my favorite trails, the old Cougar Creek Trail. I should be about able to connect the north and the south sections together this year, or at least that is my plan. I hope to spend at least one night down on Cougar Creek this year, for it would make it a lot easier to do some exploring down in the bottom of the canyon. The following map fragment is from the '38 Mt Hood map that got me started on this adventure of mine a few years ago.
Don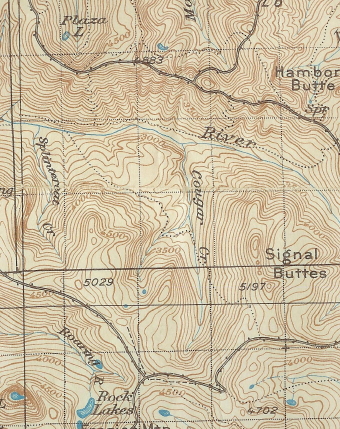 09/07/2010 - 9:09 pm
Member Since: 09/20/2009
Forum Posts: 842

Offline
---
Aleesha,
 
By all means bring your kids out into the forest and walk some trails. Be certain that some of the trails in our district are more suitable to more experienced backwoods persons and others can be enjoyed by anyone, even if you have never wondered down a trail before.
This forum is a good place as any to ask the questions before you go out in the forest in our district. I am sure there are a number of people who regularly post on this website that have been to the area in which you are thinking about exploring. So ask away!
That Cougar Creek Trail that I mentioned in an earlier posting is a long abandoned trail that hasn't seen any maintenance in over 50 years. It is not for the inexperienced hiker. The Fanton Trail, mentioned previously, is a fairly easy trail that has several access points that cars or low clearance vehicles wouldn't have a problem reaching the trailheads.
If you are new to this forest, I would recommend the Alder Flat , Riverside, and Clackamas River Trails as a starting point and going from there.
Come out and hike.
Don
09/10/2010 - 12:28 pm
Member Since: 09/20/2009
Forum Posts: 315

Offline

Forum Timezone:
America/Vancouver
Most Users Ever Online: 114
Currently Online:
7 Guest(s)
Currently Browsing this Page:
1 Guest(s)
Member Stats:
Guest Posters: 0
Members: 298
Moderators: 0
Admins: 3
Forum Stats:
Groups: 2
Forums: 8
Topics: 459
Posts: 5219
Administrators: Admin: 14, Donovan: 714, Rob Williams: 1444