Monon Lake walkway repair
08/03/2010 - 9:59 am
Member Since: 11/02/2009
Forum Posts: 5

Offline
Hi all,
I was up at Monon Lake from Thursday to Sunday of this past weekend working on replacing some of the broken wooden plank walkways on the trail around the lake. With the help of some of the AmeriCorps guys on the Clackamas River District, a contractor (Craig Edburg), and of course Eric, we managed to replace 20 out of the 30 broken walkways by the end of the afternoon on Sunday. I would like to finish replacing the last 10 walkways on Thursday and Friday of this week, but I don't think any of my helpers from last week are available. Would anyone be interested in coming up on either Thursday or Friday (preferably Friday, if only available for one day) to come help me finish up?  It is definitely a two-person job.
Thanks,
Amy
08/03/2010 - 8:34 pm
Member Since: 09/20/2009
Forum Posts: 714

Offline
08/04/2010 - 8:48 am
Member Since: 09/20/2009
Forum Posts: 315

Offline
08/04/2010 - 4:22 pm
Member Since: 09/20/2009
Forum Posts: 842

Offline
Amy,
I would be willing to help, I just need to run it by my boss tomorrow, so that I can burn one of my vacation days. The next 2 weekends I will be out of the area east 'o mountains and what my wife Jaci calls "drying out our bones". I grew up in eastern Oregon, and my wife is from Nevada, so we need to get our sagebrush and juniper fix at least once a year. We know when we have gone far enough east when we run into jackrabbits and rattlesnakes and can hear the meadowlarks singing.
There is nothing comparable to soaking your sore muscles in the Alvord Hot Springs after a day of hiking in the Steens Mtns, watching the full moon rise over the playa while sipping on a few cold ones.
Don
08/07/2010 - 5:39 pm
Member Since: 09/20/2009
Forum Posts: 842

Offline
Went out Friday and helped Amy and a couple of her helpers that are seasonally employed by the FS to finish the work on the boardwalks on the Monon Lake Trail #729. They were just finishing up a couple of weeks work of replacing rotten and broken planking. Nice job they did I must say. I was only there for a few hours hauling some planks and pounding some spikes, probably swatting mosquitoes more than working. I did take a couple of photos of their work.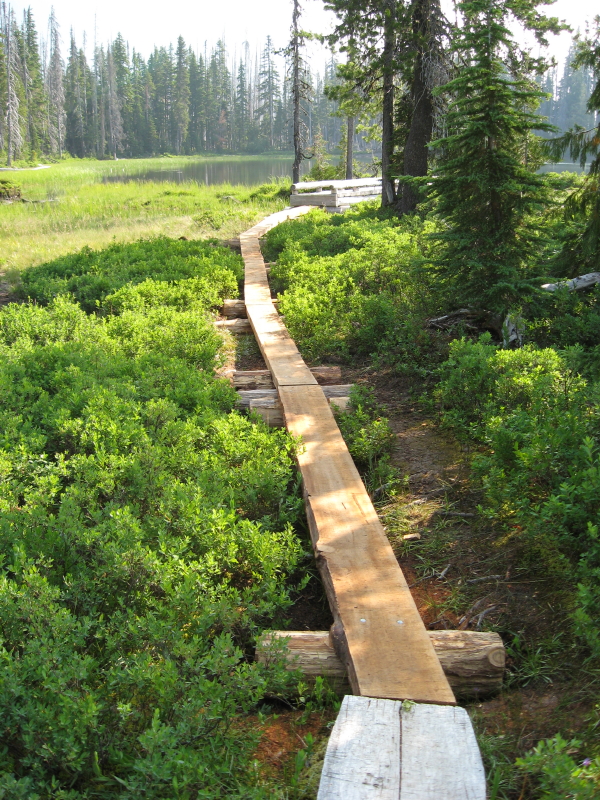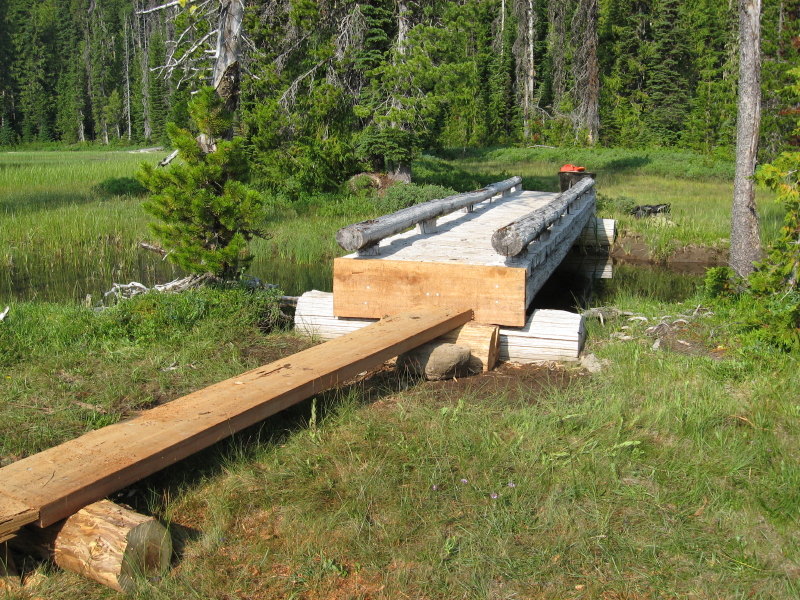 After finishing up the Monon Lake trail we went up and cutout The Horseshoe Saddle Trail #712 and the Ruddy Hill Trail #714 of  logs. The Ruddy Hill Trail is one steep trail, but worth the effort once you reach the top and take in the view. There was still a snowdrift across the trail before the summit.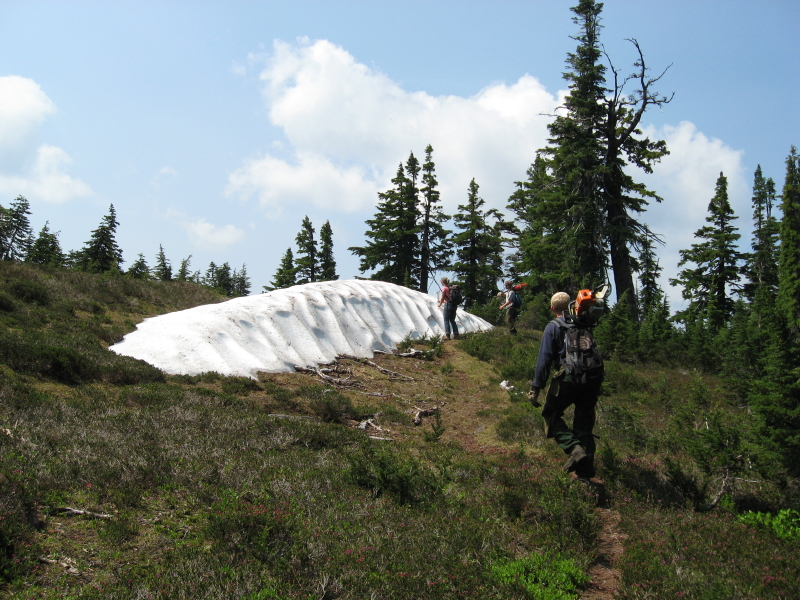 The view of Mt Jefferson and the surrounding area is to die for, but the haze from fires in the NW didn't do my picture any justice.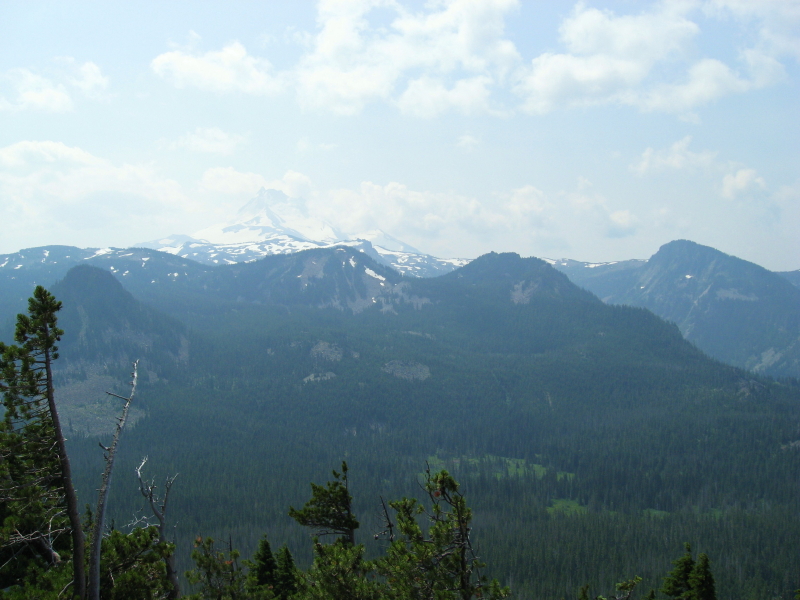 From the view you get from this site you can understand why they used it as a lookout site, although I am not sure that there was ever a building here. The telephone box is still standing, albeit showing signs of wear.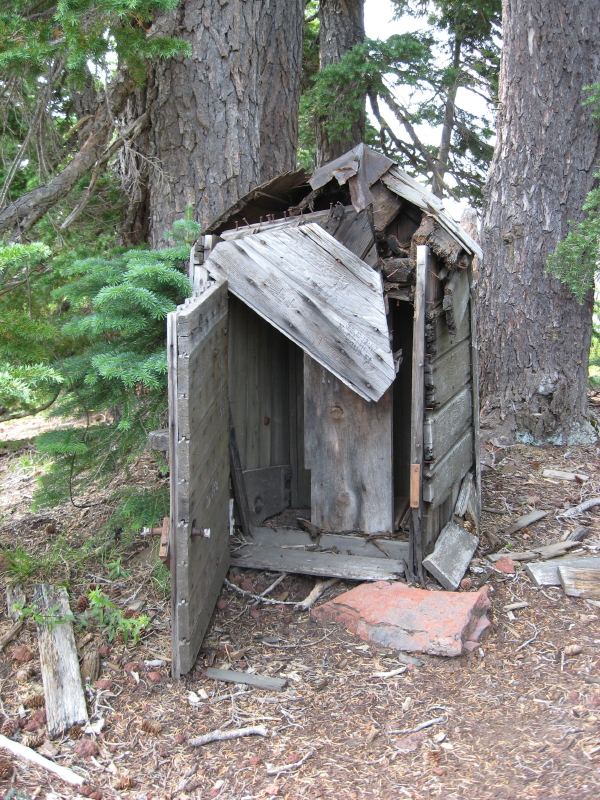 It was a nice day out on the trails in our district, even if it was to do some work.
08/07/2010 - 8:12 pm
Member Since: 09/20/2009
Forum Posts: 714

Offline
08/08/2010 - 12:26 am
Member Since: 09/20/2009
Forum Posts: 842

Offline
Donovan said:
Nice post. Almost like being there for the day.

That phone box is starting to go fast. Might be time for a reproduction to rest nearby.

Don't forget to spike those walkways down. I mean into the peat. At slight angles.

You even got the "helpers" up the hill!

 

Donovan
---
You wanted pictures so I brought them. The helpers were hoping for a short day, but we made sure we got a days work out of them, seeing how we had the new boss's truck none the less.
The phone box does look to be fading pretty fast. I am just glad someone hasn't used it for firewood yet, for there were several fire rings about.
I am not sure if there was any spiking done into the peat along the boardwalks.
I was the only old goat out there. If I can climb up that hill, I would expect the 20 something crowd that I was with to make it up there also.
Don

Forum Timezone:
America/Vancouver
Most Users Ever Online: 114
Currently Online:
3 Guest(s)
Currently Browsing this Page:
1 Guest(s)
Member Stats:
Guest Posters: 0
Members: 301
Moderators: 0
Admins: 3
Forum Stats:
Groups: 2
Forums: 8
Topics: 459
Posts: 5220
Administrators: Admin: 14, Donovan: 714, Rob Williams: 1445