Trail Length: 1.7 Miles
Elevation Gain: 700 Feet
The Hideaway Lake end of this trail starts along the right side of the lake as you pull into the campground.  The route is a bit vague until you get a little ways along the bank through the rhododendrons.  Then it doubles back and heads through a very nice area emerging on the road near the trailhead parking area which is across the road and on the other side of the creek.
The trail crosses a large clear cut and then shortly after re-entering the big timber arrives at the lake.  Keep right and walk around the lake through three camping sites, the middle of which is quite large. About halfway around the lake the trail becomes distinct again and begins ascending a draw which drains into the lake.  There is a sign indicating the trail to Frazier Turnaround. If you keep looping around the lake, you have missed the route up to the Turnaround. Trail is rough due to erosion in this area.
The trail emerges at the top onto an abandoned road which is the Grouse Point Trail 517. Frazier Turnaround and Serene Lake Trail 512 is to the right a short way, Cache Meadows and Cache Meadow Trail 702 are to the left about a mile and a half.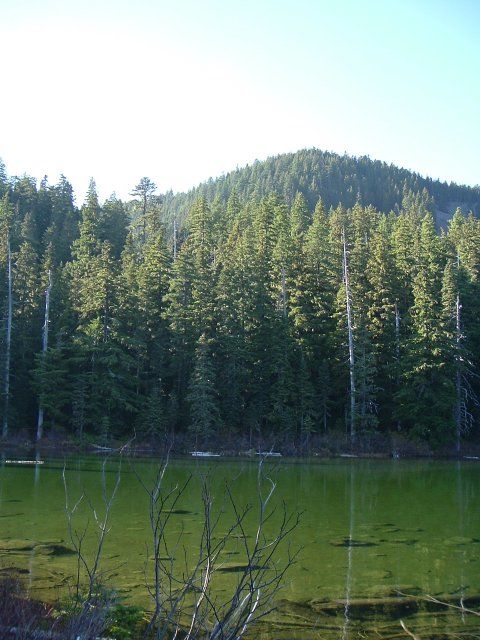 SHELLROCK LAKE AND HIGHER GROUND