Trail Length: 3.4 Miles
Elevation Gain: 350 Feet
The road shown on the info sheet map at the link above is the 4635-140 Rd.  If you pass a large rock quarry on the left you are between the 702 trailhead and Trail "X" at Cripple Creek (Bob's Buck Camp).  You can get to Cache Meadows either way.  The trail by way of Cripple Lake (Trail "X") is easy to follow but somewhat less interesting than the actual 702 Trail.  However, the 702 trail follows a shallow draw and is washed away in spots as it follows a linear meadow.  Stay in the draw and pass water bodies/meadows on the left when heading in and you should be OK.  The route is also fairly well blazed.
The beginning of 702 is underwater in the early Spring with snow melt.  Keep left at the first two junctions at the first lake/meadow at the beginning of the trail.
If you go in on the 702 Trail and want to return by Trail "X", it departs the meadows across the narrow gap between the two meadows at the former cabin site (an obvious camp site and the Cache Meadow sign is located here).  There is no well defined junction. Trail "X" is not blazed so 702 would be best in snow.
Trail also connects with the Grouse Point Trail 517 at Cache Meadow.  Watch for the signs.  Filterable drinking water may be available at the source of Cripple Creek. Go east from the cabin site across the east meadow and into the woods about 100′ on Trail 517. The main trail heads to the left, the abandoned trail continuing east leads about an 1/8 mile to a small watered marsh fed by year round springs.
Cache Meadows is an extremely delicate area.  Resist stomping around in the meadows until they are dry — late Summer.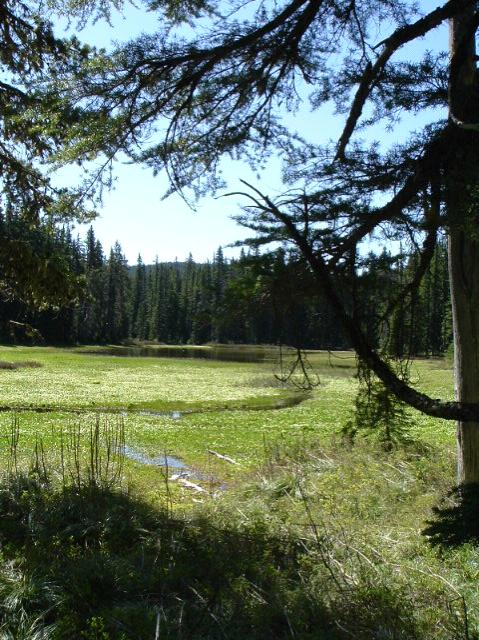 ONE OF A SERIES OF THREE LOVELY MEADOWS AT CACHE MEADOWS