Sound of Two Rivers Trail
11/15/2009 - 11:00 pm
Member Since: 09/20/2009
Forum Posts: 842

Offline
Hiked up the "Sound of Two Rivers Trail" today to check for logs and snow level. There are 3 logs down on the trail ; one 12 incher near the second switchback, a 2'+ one at the bench, and that one from last year up towards the hogsback above the bench.There was only a skiff of snow when you crested the top. You had to walk up the road a 1/4 mile or so to get 2-3 inches of snow. There were fresh tire tracks at the landing where the trail comes out on the road.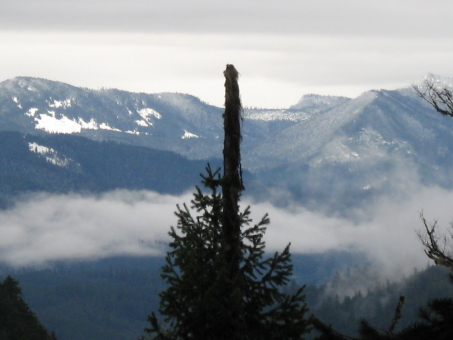 You could see the snow up on Burnt Granite and Granite Peaks between the trees.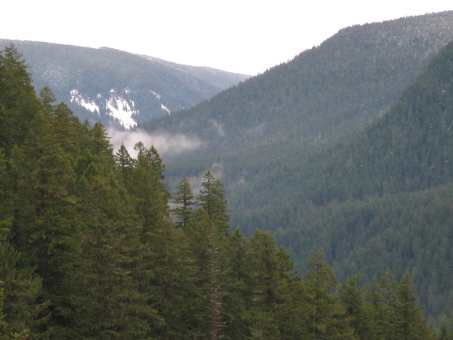 Looking up the Roaring River from the trail you could see the snow up on the South Fork of the Roaring River.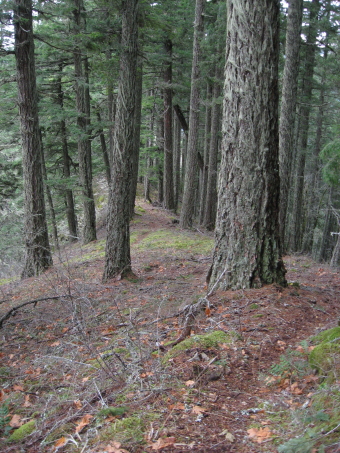 It was windy on the hogsback, which it is most of the time in the winter, but it is also one of my favorite spots on the trail.
Just because it is overcast, doesn't mean you can't hike. I was out hiking today for 4 hours and only got occasionally hit by snow falling out of trees, and no rain.
11/17/2009 - 1:33 pm
Member Since: 09/20/2009
Forum Posts: 16

Offline
11/17/2009 - 6:34 pm
Member Since: 09/20/2009
Forum Posts: 842

Offline
Now that the trail is protected by wilderness I thought that it would be ok to openly talk about the trail. It is one that has been 'off the map' for so long most people don't know that it exist. I have yet to meet anybody on it during my dozen or so times hiking the trail. I did see someones tracks in the snow once last year, but they only went up halfway and veered off, probably a hunter. Because the trailhead is at 1000 feet, you can usually get to it all winter long except for when you really get dumped on from a snow storm. I use it to stay in shape during the winter months when the other trails are unaccessible, with it's 1500 foot climb out of the canyon you get a good workout. I always thought that if you could stash some crosscountry skis up near the top, you could ski the roads and access alot more territory in the winter.

Forum Timezone:
America/Vancouver
Most Users Ever Online: 114
Currently Online:
4 Guest(s)
Currently Browsing this Page:
1 Guest(s)
Member Stats:
Guest Posters: 0
Members: 297
Moderators: 0
Admins: 3
Forum Stats:
Groups: 2
Forums: 8
Topics: 454
Posts: 5197
Administrators: Admin: 14, Donovan: 714, Rob Williams: 1435