Trail Length: 2.8 Miles
Elevation Gain: 2200 Feet
No longer officially maintained except the the first half mile. Volunteers are keeping the trail passable to hikers.  Areas of hazardous footing due to loose gravels on grade above the rock field — hang on or you're gone. Quite brushy in places. Stamina required to get back out of the canyon.  A very scenic route into the heart of a wilderness area.  Allow three hours to get out to be safe.  A 2200′ climb.  Quite steep towards the river.  Otherwise well graded.
This is the best trail for reaching the Roaring River in spite of being dropped from official maintenance.  Unfortunately, ATVs have damaged the upper mile of the trail.
When entering the abandoned Lookout Springs Campground watch for a sign on the left about 50 feet from the entrance.  The trail is wide like a road through this young hemlock stand. There is no sign for the campground so watch the odometer.  There are remains of a sign on the right and a set of concrete steps on the left but they are becoming increasingly grown over.  The best landmark is the quarry on the left which has a lot of orange clay in it.  If the springs at the camp are dry (a path on the right as you drive further in goes to the springs) try Corral Springs (ice cold) down the trail at the junction with the Huxley Lake Trail 521.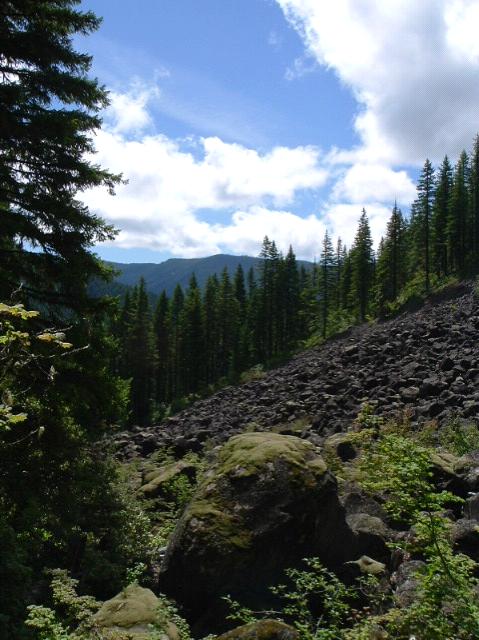 LARGE TUMBLES IN ROARING RIVER COUNTRY