Trail Length: 11.3 Miles
Elevation Gain: 4000 Feet
The shelter mentioned in the info sheet was burned during hunting season 2002.
This is a very ancient route.  Crossing the Roaring River can be challenging before late Summer.  The descent into and climb out of the Roaring River requires much stamina.  The occasional hiker probably would not enjoy the west end of this trail.  It is steep and remote.  Water up on the way out of the river as the route is waterless on top.  There is spring water about a third of the way out of the canyon just before the big push up the hill.  Trail is quite faint climbing out of the Roaring River eastbound on account of the light use this tough part of the trail gets.  There is a viewpoint a quarter mile east of the Dry Ridge Trail junction.  Trail is quite brushy in the Grouse Point vicinity and no one seems to be able to find the viewpoint at Grouse Point.
The west end of the trail shows correctly on the USGS maps about a third of the way east out of the Roaring River. Then it climbs a ridge west of the one indicated, returning to the route shown on the maps near the Dry Ridge Trail 518 junction. Grouse Point is bypassed by about an eighth mile. See the map for details.
From the Serene Lake Trail 512 junction trail condition improves to Cache Meadow and beyond.  This is the most scenic part of the trail. Remember to keep left when leaving Cache Meadows heading east, then after the hill climb and coming to the old road, turn right to go to Frazier Turnaround.
Frazier Mountain at the east end of the trail was named for Donald Frazier, who died in 1918 in military service during WWI. He was a forest guard on the Mt. Hood National Forest. The mountain was formerly called Shellrock Mountain, one of several in the sate, and it was believed the new name would be more suitable that the duplication, as well as honor a man who died for his country.1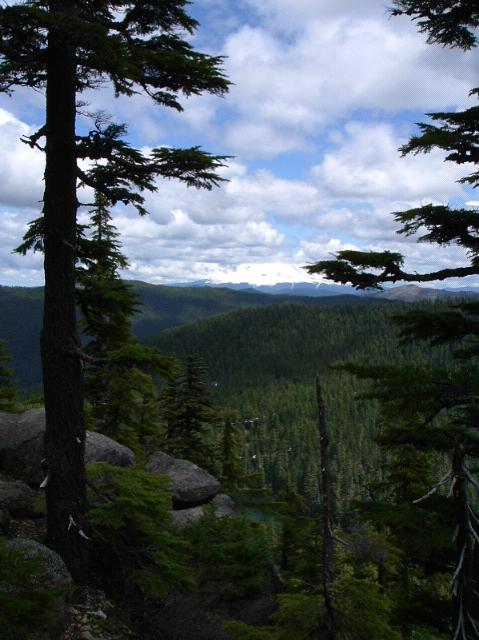 REMOTE ROARING RIVER COUNTRY
1Oregon Geographic Names, McArthur, Lewis.