Trail Length: 4.0 Miles
Elevation Gain: 1700 Feet
The 4611 access usually clears of snow early in the Spring.  If you start at the 4611 end, keep right at the first trail junction about a half mile up the trail.  The route to the left is an old trail which leads back towards Winslow Pit.  You can come in from this direction on this unofficial trail (a re-use of a segment of an old trail) if you like.  It starts on the left at the crest just before the end of the 4611-136 spur in a recently harvested area, about a mile off the 4611 road before Winslow Pit. The 4611 road gets rough beyond Winslow Pit.  The alternate access is good road but will add a mile and a quarter to your hike.
About half a mile from the first junction is another junction in a small boggy clearing.  The lake is down the steep, winding, and well traveled route to the right.  Continue straight on faint trail to go towards Corral Springs and Lookout Springs Campground. Traverse the edge of the Roaring River canyon climbing gradually to a saddle and a junction with an abandoned spur road which has grown over and reverted to a well used trail.  Keep right.  Trail continues and begins an aggressive 1000 foot ascent most of which occurs in the next half mile.  Once you enter the rhododendrons, the climb will begin to ease.  There is seasonal water on the left as you climb the hill.  On top meet the Corral Springs Trail.  There is a spring at the junction.  Lookout Springs is left a half mile.  The Roaring River is to the right. See Corral Springs Trail 507 .
The map on the info sheet at the link above shows a direct link from the 521 Trail to the 518 Trail.  They are actually separated by a quarter mile stretch of jeep road.  This road forks and I believe it's the middle fork you want to take.  The topo of the area shows the trails being farther apart than they actually are.
ATV use has somewhat degraded this trail.  Expect mud, shredded vegetation, etc.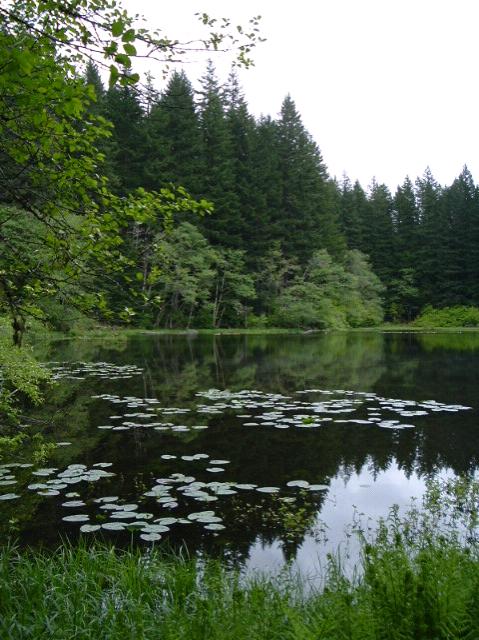 LOVELY HUXLEY LAKE