Trail Length: 13.0 Miles
Elevation Gain: 1600 Feet
ACCESS TO BAGBY HOT SPRINGS
It is a short distance to the springs but one should nonetheless take all the precautions prudent for any hike in the woods.
Be prepared for urban problems at the parking lot and the springs.  Don't leave anything of value in your car.  Break-ins are a regular occurrence.  Things have improved significantly due to more on site presence.  Please note that if you want to soak in the hot tubs, there is now a fee to do so.  For more information on current fees, etc, please see the forest service page here.
It is not uncommon for people to be snowed in or stuck behind downed timber during the Winter.  So, bring extra gas, food, and blankets.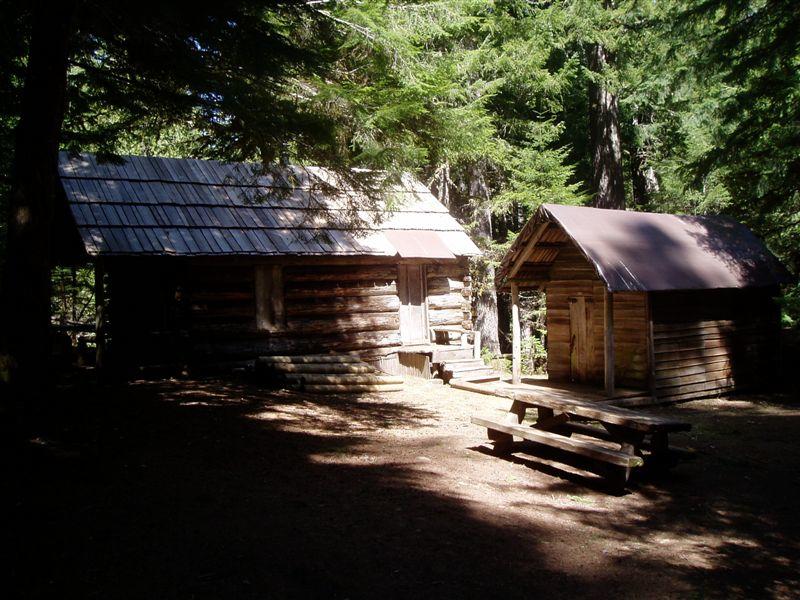 Some of the Old Forest Service Cabins at Bagby Hot Springs
Bagby Hot Springs were named for Robert W. Bagby, a prospector and miner who frequented this part of the state.  He lived between Molalla and Wilhoit.  He died on October 8, 1927.1
BEYOND BAGBY HOT SPRINGS
Beyond the Springs usage drops off considerably as the trail climbs into the high country in the heart of the Bull of the Woods Wilderness. Trail conditions can be challenging in the interior where maintenance is seldom performed.  There are large pockets of beautiful old growth to reward you for your efforts to reach this hidden gem.
Silver King Lake
The spring indicated near the Whetstone Mountain Trail 546 junction is exceptionally faint and should not be relied upon.
The segment from the Whetstone Trail to the Twin Lakes Trail 573 is very brushy and the footing is poor. Use caution.
1Oregon Geographic Names, McArthur, Lewis.