Trail Length: 3.9 Miles
Elevation Gain: 1500 Feet
This trail though dropped from maintenance in 1997 has recently been restored by volunteers.  It is on the district map and the topo of the area. Trail was part of the Oregon Skyline Trail in the 1950s.
Note: Easy access to this trailhead has been removed by the recent decommission of the 4650 road shortly after crossing the Clackamas River.  You can still access the trailhead by walking the decommissioned road (not much fun).  You may also get to the existing trailhead via the 4670 to the 4650 roads.

Trail climbs from it's northern trailhead located about three miles up the 4650 road from the Clackamas River crossing at the 46 Road. Look for the 020 spur about a half mile beyond the powerlines on the right.   Additional Note:  The 020 spur has been re-opened to work on the thinning/fuel reduction projects going on.  To get to the original trail, walk up the road, take the first left spur and then shortly thereafter take a right at the next fork and you should see the beginning of the real trail.  There is no trail sign.
An abandoned side trail on the left on the east flank of Burnt Granite about a mile and a half up the trail leads to the 4670-210 spur at Tarzan Springs a short quarter mile north of the barrier at the 4670 road.
This easily graded trail rises through varying timber to a dry bench with pine stands.  Quite brushy with rhododendron in the middle stretch of the trail.  Emerges on the south flank of Burnt Granite shortly after passing three rock fields with fabulous views.  There was a side trail to the summit lookout site but it is obliterated by fallen timber. The last quarter mile has been logged over.  The tread is destroyed and it is necessary to follow orange flags to the end of the 6310-270 spur (basically, follow the ridge south) and the southern terminus of the trail.  It is probably easiest to find the northern trailhead.
Walk the road out to the 6310 road.  Turn left, then right and find the trail to Mount Lowe and points south.  This is the north end of the Rho(dodenron) Ridge Trail which has been incrementally restored by volunteers in recent years.  Maps of the Rho Ridge Trail are available at the District office in Estacada. Crossings of roads and trailheads have been marked with yellow diamonds.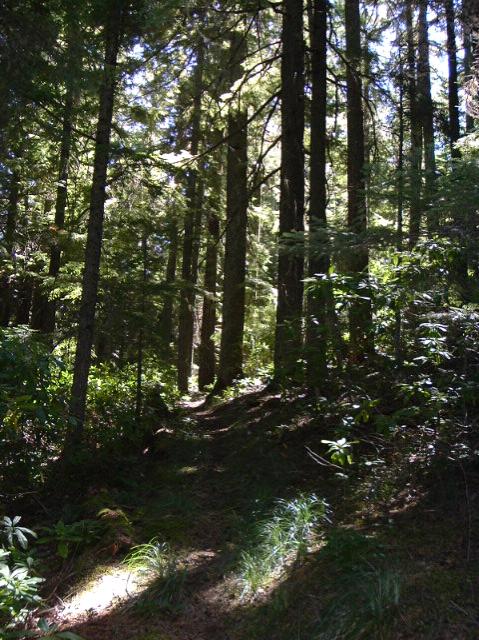 TRAIL CLIMBING THROUGH AREAS OF FIRE HISTORY
This is big time cougar country.  Watch your back.  Seriously.  Not advisable to hike this trail alone.  The cougars are in the thick rhododendrons.
The Forest Service has no trail guide for this trail.