Trail Length: 3.3 Miles
Elevation Gain: 1000 Feet
Topo Map Showing Cross Country route to lower trail section
This is an interesting area seldom visited.  One of the earliest trails in the area led here from the east.  Likely that Indians gathered roots here, followed by trappers, and then shepherds. I am always struck by the variety of birds present at the meadows. Very buggy.  Best in the Fall or late Summer. However, if you can get in just as the snow is out, you will be rewarded by a stunning variety of botanical diversity.  Each of the meadows are quite different ecologies.  There will be alot of standing water in the early season. The upper trailhead is directly across the road from the Rimrock Trail.  The trail continues at the far side of the first meadow which retains a seasonal body of water.  At the second meadow, enter and keep right along the edge of the meadow and watch for the trail's re-entry into the woods.  A nice camp spot is across the meadow's narrow north end and slightly to the left as you first enter the the meadow. Beyond this larger meadow and it's lake pass through some micro-meadows or pools finding the trail at the far side each time.  The third meadow opens on the right.  Abundant wildflowers. Keep to the woods edge on the left and meet the road.  The next 3/4 mile of the trail has been clearcut and not restored by the Forest Service.  Beyond the clearcut resume a nice stretch of trail that starts at the end of the 5830-265 spur road.  It continues in virgin timber to the trail's end at the 4635-120 spur just west of the collapsed bridge over Cot Creek.  Trail descends the ridge nearby.  The entire route is approximately 3.3 miles in length.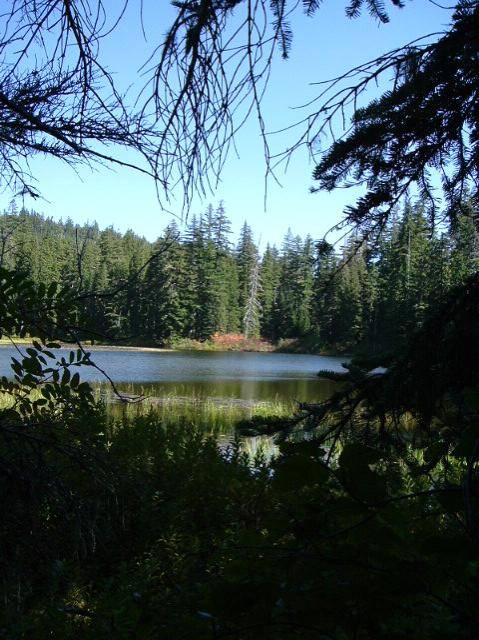 TRAIL WALKS THE WEST SIDE OF THE LAKE
Navigating the clearcut is not recommended for those without good directional skills.  Basically, you want to follow the wash across the road south into an opening where two clearcuts merge.  Walk across this open area keeping the uncut timber south of you on your left.  Follow the cut line until you see the cut line curving left and then returning to the horizon on a small rise ahead.  Walk across the clearcut at this time to the cut line on the rise.  Just over the rise follow the cut line down to a road.  Go right then left.  Walk out to the end of the spur and follow ribbons down and slightly to the right to re-enter the virgin timber and continue the trail.  The clearcut has not recovered very well and remains open featuring lots of beargrass and sun.  It's not unpleasant to walk across.  Lots of wildlife.  GPS co-ordinates are provided with the map to assist getting across the clearcut. If you come up from below during the Winter this is a nice area to snowshoe.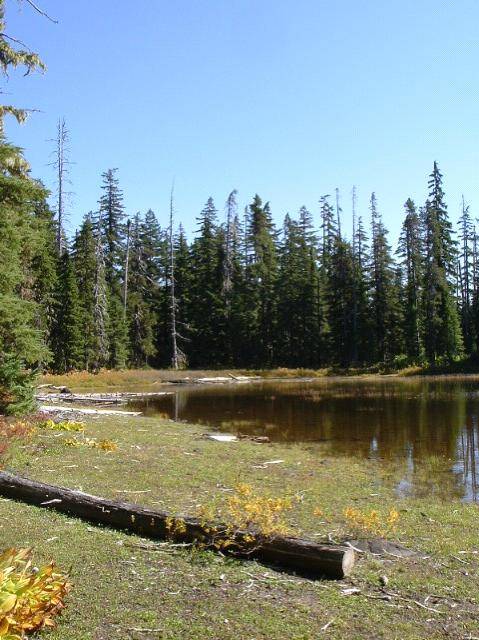 NORTH MEADOW, A SEASONAL POOL